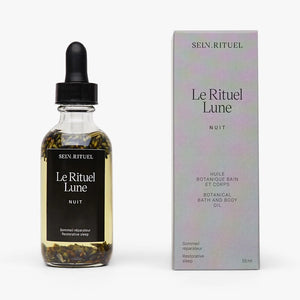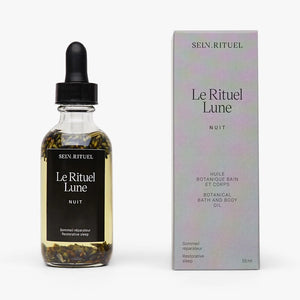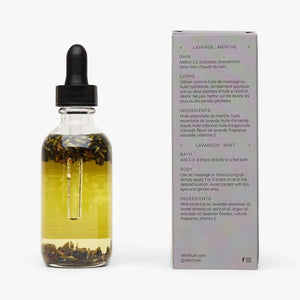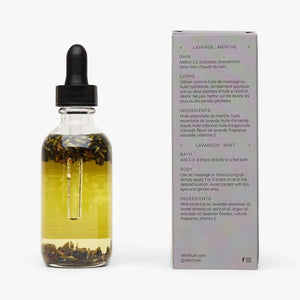 On Sale
LE RITUEL LUNE - BOTANICAL BATH AND BODY OIL
The experience
The sky is getting darker, the night is falling.
Between the sweetness of lavender and the freshness of mint, let yourself go.
Your dreams will carry messages you have been waiting for. Open your senses. 
It smells... 
Lavender and mint.
Uses 
Bath: Add 2 to 3 pipettes of oil directly to the hot water of your bath.

 

Body: use it as a massage oil. Apply 1 or 2 pipettes of oil to desired location. For example, you can apply 1 ml on each wrist to benefit from its aroma therapeutic virtues. 

 
* For external use only. Do not apply to the lips, eyes or genitals.  
You asked us:    
How many uses do I have with one bottle of oil?   
Bath: You can take up to 18 baths with your oil using 3 ml per bath (which is more than enough).    
Body: you can use your oil up to 55 times by applying 1 ml per time (which is more than enough to perfume your skin or apply to a specific area).  
What are the benefits of oil on my skin?    
Oil nourishes your skin. A good oil helps your skin retain water and keep it hydrated. Oil also provides vitamins and nutrients that are necessary for healthy skin. By being part of your daily routine, oil helps your skin to glow and look healthy.    
How long does the oil last?  
Your product will be good for two years. Do not expose your bottle to intense light or humidity. 
Ingredients
Lavender essential oil, mint essential oil, mint and lavender dried, sweet almond oil, argan oil, avocado oil, apricot oil, natural fragrance and vitamin E.