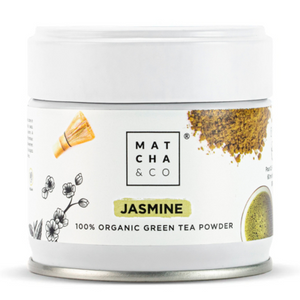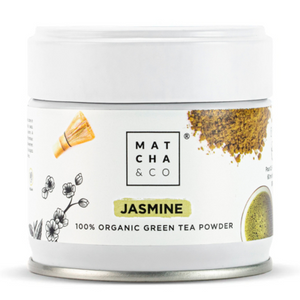 On Sale
Organic green tea powder - Jasmine


Jasmine tea is produced by infusing green tea with jasmine flowers, obtaining an aromatic mixture with a sweet taste.
Based on green tea, it has a soft green colour and contains all the benefits and antioxidants of this powerful tea.
Powdered Jasmine Green Tea
Jasmine tea is one of the most popular aromatic teas. After the green tea harvest from the spring harvest is finished and when the leaves are more fresh, they are dried using steam and sunlight.
Later they are infused together with the jasmine flowers to achieve their aromatic scent and flavour and they are ground into a fine powder, perfect for dissolving.
Perfect for
Jasmine tea contains little caffeine and is ideal to drink at any time of the day.
Ingredients
100% organic jasmine tea. Store in a fresh and dry place.
Organic. No preservatives. No colorants. Non-GMO. No sugar.
Gluten free. High concentration in L-Theanine.
Recommended Tea Brewing Times and Temperatures
| | | | |
| --- | --- | --- | --- |
| Tea Type | Celsius | Fahrenheit | Brewing Time |
| White Tea | 65-70ºC | 150-155ºF | 1-2 min. |
| Green Tea | 75-80ºC | 165-175ºF | 1-2 min. |
| Oolong Tea | 80-85ºC | 175-185ºF | 2-3 min. |
| Black Tea | 100ºC (boiling) | 210ºF | 2-3 min. |
| Herbal & Fruit Tea | 100ºC (boiling) | 210ºF | 3-6 min. |