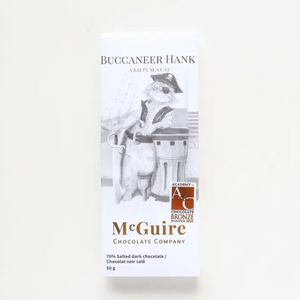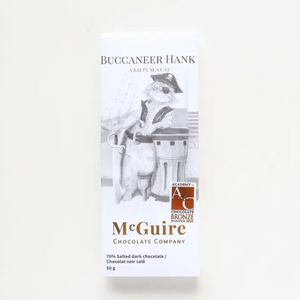 On Sale
Buccaneer Hank - 70% Salted Dark Chocolate
70% bean to bar salted dark chocolate.
Cacao origin: Nahua | Costa Rica
Buccaneer Hank stands for first class ingredients. He has scoured the world looking for the best cacao and salt he could get his little paws on. Pairing this Colombian cacao with Newfoundland sea salt resulted in a rich bean to bar chocolate with a caramel-likeness, he is able to sustain his crew and trade his chocolate on demand at every port he lands.
Ingredients: Cacao beans*, Cane sugar*, Cocoa butter, Salt. May contain: Peanuts, Tree nuts.

Made in New Brunswick, Canada

This chocolate is Certified organic and is for human consumption only. Do not feed it to your pets.