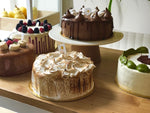 Author: Sonya Davidson
Original Post: Click Here
There's something going on at the busy corner of Bay and Dundas. Yes, we still find line ups at Uncle Tetsu's for their chiffony cheesecakes but there have been numerous other delightful eateries that are flocking to the area. The latest entry is Butter Baker, a Toronto-based bakery that serves up lots of diet-breaking sweet and savoury goodies! We've been keeping an eye on this hotspot as they've been dropping off freshly baked teaser goodies at our offices for the past couple of months. We were excited that they're situated right downtown in the core of the city.
The bakery prides itself on classic French baking techniques made from scratch and in small batches. Their well-established chefs use local ingredients are incorporated in their recipes including fresh herbs, fruit and free-run eggs baked daily. Chef Tina is a Cordon Bleu trained French Pastry chef with several years with her team baking some of the city's finest macarons and fresh pastries at sister bakery Butter Avenue. Chef Lucas has been a pastry chef at some of the city's most established restaurants for over 20 years. Both classically trained and both are obsessed with details.
While you can certainly find a flaky buttery croissant, or two, here, Butter Baker's most unique and definitely drool worthy offerings also include their signature Pork Belly Croissant made with cherry wood smoked pork, gruyere cheese, smoked cheddar and house-made bbq sauce. Their Bahn Mi Croissant sandwich made on the spot with roasted porchetta is a fresh twist to a favourite grab-and-go meal filled with fresh herbs, daikon radish and pickles nestled in a toasted brioche. The Baker's Roulee is a croissant based pastry created by their in-house executive chefs that is lovingly drizzled with the house-made caramelized brown sugar syrup fresh out of the oven. The Kiwi Kiwi Danish is filled with Madagascar vanilla custard, house-made kiwi jam and fresh sliced kiwis. There are plenty more and it seems like each time we visit we've been introduced to something new and exciting. Hello Triple Chocolat Croissant!  Our tastebuds are doing a happy dance!
Aside from their croissants and danish offerings, Butter Baker has also introduced a signature line of decadent cakes and yes we tried them all! The moist and flavourful Banana Goodness cake marries the perfect combination of fresh banana with gooey caramel in a light layered cake that made our hearts swell with happiness. The Matchamisu cake is filled with light mascarpone vanilla creme and layered with milk chocolate and dark chocolate chantilly between layers of Uji matcha chiffon cakes.  Several other cakes including a S'mores cake are offered on their roster. The chefs tell us the cakes will also include seasonal offerings along side signature roster.
We also tried their signature Latte made of organic espresso, steamed milk and their own caramelly smooth tonka bean syrup. It's really good! By the way, the tonka bean has somewhat of a elusive background that makes this hot beverage even more intriguing! I found this interesting reading here "The Tonka Bean: An Ingredient So Good It Has to Be Illegal" in The Atlantic.
The walk-in bakery itself is a soothing space of tranquil white sweet hints of freshness. A green herb garden is set against one wall. We're told that herbalists visit once a week to maintain the living plants. The wall itself in the front entrance is made with quail egg shells that have been recycled and re-purposed for interior design use. The owner tells us that their designers sourced this natural material from Japan. Butter Baker is the first restaurant in Canada to incorporate this element into their space. The bakery is also designed to cater to the fast paced area of workers in business towers, students, and tourists in the area that are wanting something unique, quick and made with fine ingredients. A modular set up allows the front of the bakery to change it's flow and access when needed.